The winter season can be especially difficult for new and nursing moms.
Long nights without much sleep. Social obligations when she's already feeling overwhelmed (or, conversely, feelings of loneliness when the weather keeps everyone bundled up in their own homes). The cold, dark months of winter can take a toll on any new mom's holiday spirit. But don't give up on the season of joy! We've found five women-owned businesses that specialize in gifts to warm up the chilliest December day and bring good cheer to all the moms lucky enough to receive them.
Spoil her with luxurious skincare for dry winter skin.
Breastfeeding and pumping frequently leave moms dehydrated. Add cold winter days into the mix and you've got a recipe for dry, dull, uncomfortable skin. How about pampering mom with luxurious, cruelty-free skincare made from natural, certified organic ingredients? Whispering Willow's Lavender Body Butter nourishes skin with organic shea butter, coconut oil, and beeswax that helps fight the drying effects of winter. Add a lavender-filled eye pillow and gift box full of goodies to get top billing on her nice list.
Conjure up her of her favorite holiday memories.
Meg Kuck launched MODERNCITY + MAIN, a hand-poured soy wax candle company based in Newark, New Jersey with two goals in mind: to create aromas that elicit fond memories and to support organizations devoted to raising awareness for victims of domestic violence and abuse. Ten percent of every aromatic purchase is going to a good cause, which makes this a sweet gift that keeps on giving.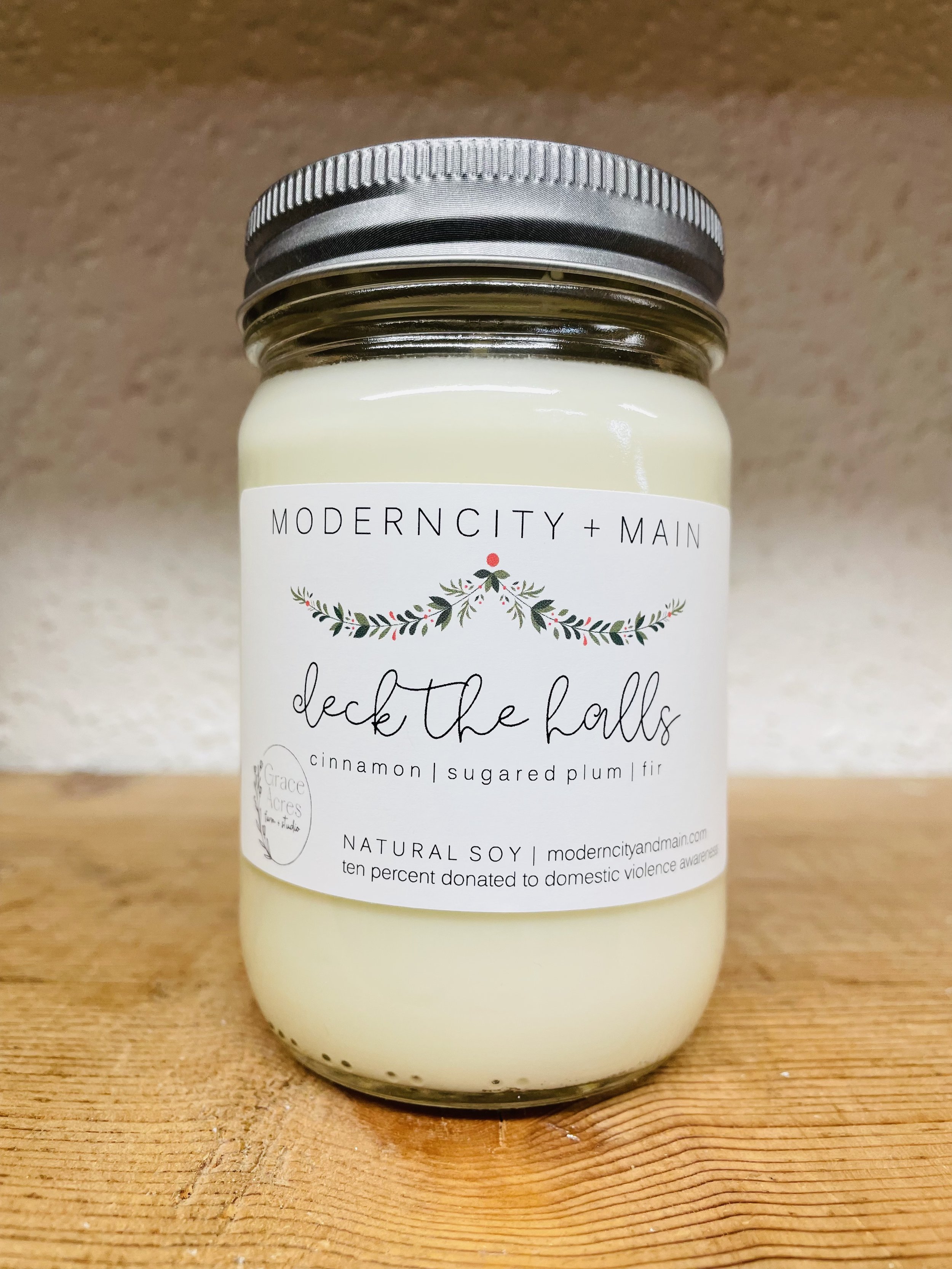 Deliver comfort food to a new mom who needs TLC.
Like MODERNCITY + MAIN, Spoonful of Comfort is a small business that was founded with a compassionate purpose. In this case, the founder wanted to make it easier for people to send comfort to loved ones far away. The New Parent Care Package is the perfect way to nurture a tired mama this holiday season.
Give her the gift of self-care.
Being a new mom is exhausting, and it takes a lot out of a woman – physically, emotionally, and mentally. The best gifts are the ones that restore mom's energy and well-being. Promptly's beautiful Postpartum Journal was created in partnership with certified therapists as a way for new moms to prevent and ease the symptoms of postpartum depression and anxiety. Pair this with the women-owned brand's Childhood History Journal for any mom who would benefit from the gentle self-care practice of reflective writing.
And, of course, you can never go wrong with chocolate.
Honestly, a new mom is likely to welcome chocolate in any form, but a mug of rich hot chocolate from the chocoaltiers at Xocolatl is next level, which is exactly what she deserves. The Complete Drinking Chocolate Kit delivers European-style drinking chocolate with recipes for three different styles of preparation, so mama can mix it up. It also comes with honey marshmellows, an herbal cacao tea, a bar of the brand's twice-award winning, single-origin dark chocolate, and a fun mug.
We support new mamas and business mamas.
Milk N Mamas baby is owned and operated by women who have experienced the challenges and joys of balancing breastfeeding with work and family. Our company's history is rooted in activism on behalf of nursing moms, and our women-lead team continues to advocate for mamas and babies every day, one mother at a time. We're also proud to support other women in business.